Paradise Wins Cutting-Edge Aquatic Fitness App Award
Ability Fix is our unique mobile app for anyone wanting to improve their fitness in the water regardless of their current physical ability level. Users are guided through easy-to-understand aquatic exercises designed to increase strength, flexibility, balance, and cardio.
Exercises are categorized by a person's ability level or impairments, whether a person is a senior with limited mobility or an athlete who wants a high-intensity water aerobics workout. App users can enjoy the benefits of aquatic fitness in any body of water by casting or streaming to any device, including smartphones, tablets, laptops, smart TVs, and Bluetooth headphones.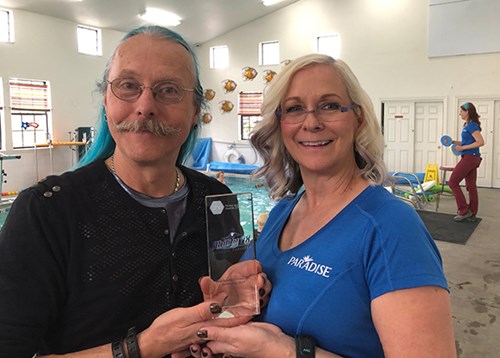 Award-Winning Best Aquatic Fitness App
This innovative fitness app garnered a Global Health & Fitness Award: Best Aquatic Fitness App Developers 2019 from Global Health and Pharma (GHP). Ability Fix officially launched at the beginning of this year with 50 exercises and three Ai Chi routines.
While the app is designed to have a diverse following, GHP noted that it can be used in several ways and may be particularly useful for caregivers and medical professionals to create exercise routines that are tailored to their clients.
Customized or Predefined Water Workouts
Much like a music playlist, all of the water exercises are created as individual files and can be played in any order. A physical therapist, for example, can recommend a post-treatment regimen, such as exercises for water aerobics for lighter intensity workouts. The app is also versatile and easy enough for an adult child to help an ailing parent get the exercise they need.
One can select a predefined workout or customize their own routine based on their criteria. Hop in the pool and listen to the entire workout through speakers or waterproof headphones, similar to being taught water aerobics classes by an in-person professional aquatics instructor.
Ability Fix Offers Five Levels to Suit Different Needs
If high-impact, land-based activities aren't working for someone at the moment because of injury, limited range of motion, or obesity, aquatic exercise may be extremely efficient and effective. Ability Fix offers five distinct levels of workouts and exercises to meet specific ability levels.
The app may be a good fit for someone who doesn't benefit from aquatic fitness classes, which are often designed to serve an "average person," so some may find that type of class too easy, too hard, or not appropriate for their mobility needs.
Workouts on the app are professionally-created by certified trainers. Water is a forgiving and fun environment for an effective workout. You can also make it as challenging as you'd like.
Learn more about Ability Fix at www.abilityfix.com